RALLY NEWS -- DECEMBER, 2016 

Hello All,
Merry Christmas everyone! As promised we have already sent out 70 information packs about the next year's Historic motorcycle event to all who had asked for this information at the 2016 Irish rally and on other occasions.
If there is anyone out there who fancies coming to the "Rally with a Difference" in Latvia and has not received the Rally Entry Forms and Regulations yet, please get in touch with me.
As usually we have started planning the event and the route early, including the venue for a group photograph, which has become our trademark and tradition.
My son-in-law Maris Pilacis will be our Chief Organizer as he has many talents and a lot of youthful energy to see things through to high standards as has been the norm in all previous Kurland rallies.
The 2017 International Kurland Rally will go into history as the first Kurland Rally, which will not take place in Kurland or Kurzeme, but will take its participants to Vidzeme or Midlands in English parlance. Thus we should associate the Kurland Rally with a Rally around Latvia in a broader sense, each time exploring new ground, seeing new places of interest, sampling new traditional Latvian foods and beers from different breweries…The Latvia Tourism Guide says Latvia is best enjoyed slowly – so we will have 3 and ½  Rally days to enjoy Latvia which is among world's greenest countries.
Health permitting, 2017 will be the year of motorcycle activity for me as I intend to do the London-Brighton Pioneer Run in March (my 5th) and the FIVA Rally in France in May, so my son Robert and I along with some other motorcycle friends from Latvia would be travelling in Europe and hopefully we will meet up with some of you en route or at some of the destinations as well.
Should any of you need assistance with your travel plans please do not hesitate to get in touch with me.
Yours on a motorcycle,
Juris Ramba
Entry Secretary
International Kurland Rally
RALLY NEWS – JUNE 2015
 
Hello All,
 
As we are approaching the point of no return for this year's Kurland Rally, i.e. 15th June, I have to inform you that there have been some changes introduced to the rally itinerary. This has been done to concentrate more on the visit to Liepaja, our major open seaport city and its many attractions. The rally will start as planned on Thursday, 16th July with registration at the new Registration Desk after 16.00 hours.
 
We have reduced the event by one day and the Road Run will start and finish at different locations from the previously planned ones. To keep the surprise this information will only be available to genuine Kurland Rally participants.
 
My e-mail address has changed, it now is: ramoto1992@gmail.com
 
Ride safely,
 

Juris
 RALLY NEWS -- DECEMBER 2014. 
Hello All,
My capable and energetic son-in-law Maris has taken over the organization work of the Kurland Rally from me. Those of you who were present at the 2013 Rally may remember the promise I made to my wife -- not  to organize this rally any more…
So Maris is doing all the logistics work en route, meeting the hotel and catering people, laying out the Road Run Route, etc.
I will confine myself to the rally website, rally paperwork and will act as Rally Entry Secretary for the time being. I will remain as patron and consultant for the rally to ensure that it follows the standard that was maintained and streamlined during more than 10 years of organizing it.
For next year the dates are 16th — 19th July, 2015 and this time the Road Run route will explore the Baltic coastline from Jurkalne to Liepaja  http://www.liepaja-sez.lv/en/liepaja-port/history/  the open sea port in the Western part of Latvia. The event will be based on the old Kurland Rally traditions and format.
The rally Assembly Point and Registration Desk will be at the Lejastiezumi recreational resort near Renda http://viesunamiem.lv/lejastiezumi  120 kilometers from Riga –  it was used for overnight accommodation during the 2011 Kurland Rally.
Traditionally we will participate at the Kuldiga town festival and before striking the coastal road, our lunch stop will be at the Ivande manor http://www.pilis.lv/tulk/view.php?id=30 .  
The Road Run will be around 400 kilometers plus another 200 or less to get there and back to Riga, or much less if arriving/departing through Liepaja or Ventspils ferry ports.
There are some very interesting places to see in Liepaja, like the notorious Soviet Karaosta Prison hotel http://www.karosta.lv/en/2012/be-a-prisoner-for-a-day-at-karosta-prison-a-unique-hotel-in-latvia/, Peter the Great's  house http://www.inyourpocket.com/latvia/liepaja/sightseeing/places-of-interest/Peter-the-Great-House_11663v , where he stayed before traveling to Western Europe and other places of interest. The background for the traditional group photograph this time will be the famous Northern breakwater of Liepaja http://www.celotajs.lv/en/e/ziemelumols?lang=en .
From Liepaja we will ride through some less known and less inhabited roads to Jelgava town for overnight accommodation at hotel Jelgava. On the last day of the event we will visit the Rundale palace httSaldusp://www.latvia.travel/en/sight/rundale-palace-and-museum which has been finally fully restored. The Prize presentation will be held at the Bauska castle  http://www.bauskaspils.lv/en/castle-and-museum which now has a beautifully renovated yard and entrance to the palace. It looks totally different from what it was last year during  the FIVA rally. 
As we will be travelling along some less inhabited areas there will be a few stretches of unpaved roads – just like most of them were in Kurland area before the last war.
The Entry Deadline will be 15th April, 2015 and the number of participating motorcycles will be limited to 45. Machine eligibility is 30 years, but the older pre-1945 motorcycles will have a preference.
More details will be published on this website as usually.
If you have any questions you are welcome to e-mail me any time.
Merry Christmas!
Juris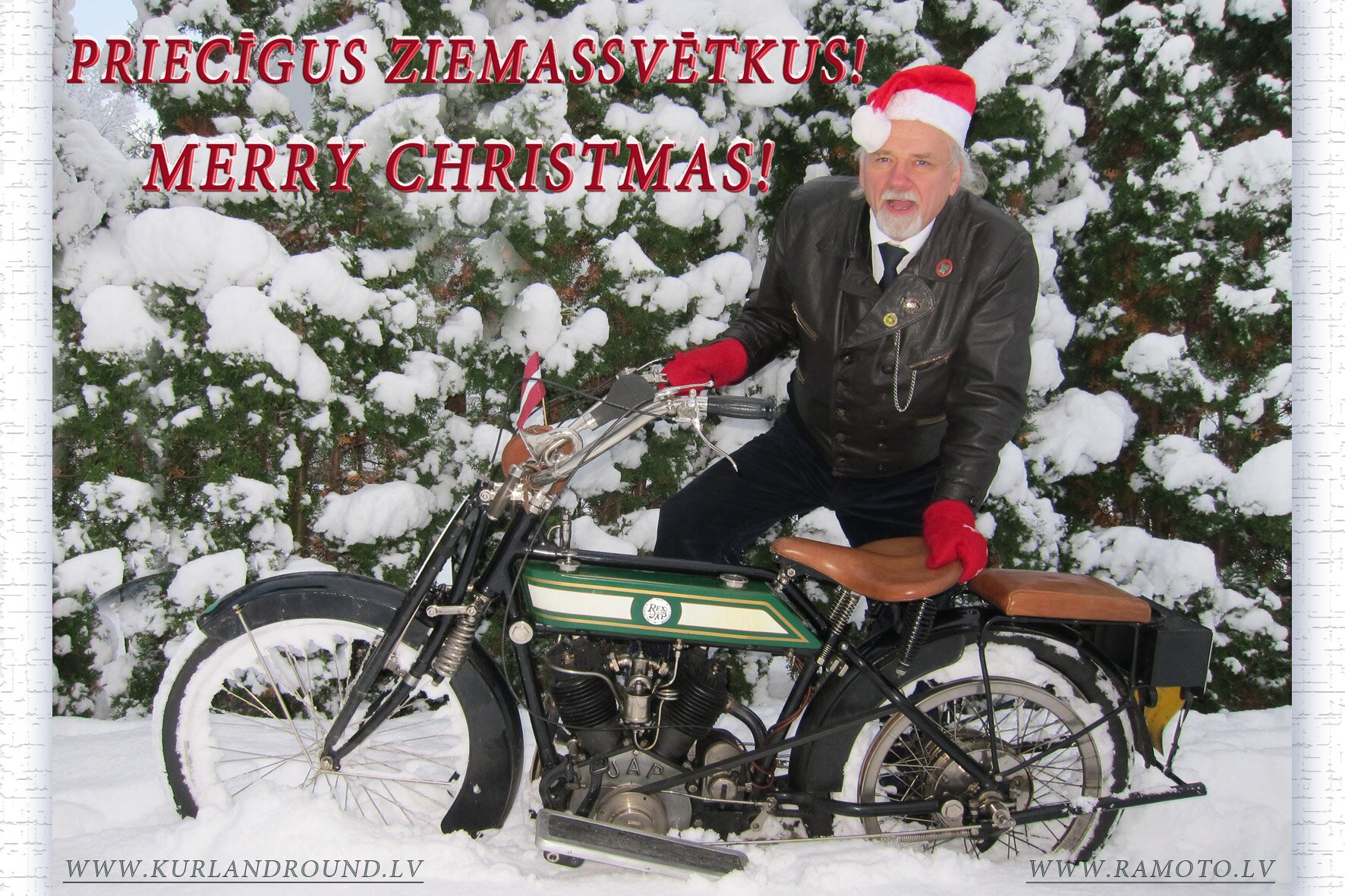 RALLY  NEWS – October 2012. 
This year is wearing out quite quickly and before it is gone I would like to mention that this has been a Jubilee Year for our club – the AAK of Latvia! http://www.aak.lv/   To celebrate the 40th anniversary our Past President and Founder of the Club, Viktors Kulbergs, invited us, club veterans, to come together at the Riga Motormuseum http://www.virtuallatvia.lv/Tours/Motormuzejs/EN/tour.html  and to celebrate this important date, the 21st July 1972, by reminiscing and by making a group photograph. Our Kurland Rally photographer  Ivars Vibe and his colleague  Martins Murnieks were both present and they duly obliged. Here is the group photograph  taken at the Riga Motormuseum. Long live the AAK!    
 

Now to FIVA WORLD MOTORCYLE RALLY matters. We have produced a Rally Presentation video which is on Youtube here:  http://www.youtube.com/watch?v=Vpo63g9qXHM  

 

If you come to the rally and find yourself in Riga one or two days early, or if you are staying after the rally you may choose to stay at hotel SKANSTE. http://www.hotelskanste.lv/en/viesnica/  One of the reasons to do so is that you will be entitled to a substantial discount at this hotel if you mention that you are a participant of the FIVA WORLD MOTORCYCLE RALLY! This is by a special arrangement only for the rally participants, guests and helpers. Besides I have to remind you that this hotel has ample parking space for trailers and bike transport vans and these can be parked at the hotel for the duration of the rally.

 

Old Riga https://www.riga.lv/media/VecrigaInfo/en.html  is only a few minutes away from this hotel and Albert Street http://www.triposo.com/poi/Albert_Street2C_Riga is worth visiting as all the houses on this street have been crafted in Art Nouveau style. Riga is regarded as the Capital of Art Nouveau architecture of Europe and by certain knowledgeable sources it has the biggest number of sculptures of naked women bodies in comparison to other cities around the world! Maybe because our women are the most beautiful women in the world!?

 

If you are riding a bike, your best bet for a bistro/restaurant is "Lido Krasta". http://www.lido.lv/eng/  It hosts ample guarded parking space and is friendly to motorcyclists. The choice of food is second to none! You can pick your favourite food yourself as it is a self-served place. Architecture of the building is traditional Latvian country style – a huge windmill. You can pay for your vehicle parking at the cash box when paying for your meal, you will be issued a metal coin – your exit pass for the barrier.

 

The Latvian Ethnographic Open Air museum, established in 1924, is for you if you like old buildings, traditions and crafts. http://www.brivdabasmuzejs.lv/lv/language  The museum is situated on the outskirts of Riga on the road to Pskov, route No A2 or E77.

 

One of the most interesting places to visit in Latvia is of course the Rundale palace near Bauska.   http://www.virtuallatvia.lv/rundales-pils-360-gradu-virtuala-ture/

It has been included in our Road Run route, but due to different reasons we will not be staying there for more than 2 hours. You will definitely need a whole day to spend there in order to take all of it in...

 

 

Should you have any special interests or needs before, during or after your stay, please do not hesitate to get in touch by phone or SMS and we will try to do our best to help you. My Mobile phone No: + 371 29255601 and it is always switched on...

 

 

This is it for this month,

Juris

 

 

 

RALLY NEWS – September 2012.

 

 

Time as always is flying fast and preparation for next year's FIVA World Motorcycle Rally in Latvia are well underway.

In July my son Robert and I have personally travelled the proposed route on a motorcycle, met the hotel people, tested the food and beer and made notes on the different attractions and places of  interest.  Some of these attractions will be  traditionally kept secret until the last day to provide intrigue...

 
This FIVA World motorcycle event in Latvia will be organized by historic motorcycle enthusiasts for historic motorcycle enthusiasts! It will not be a one-off event, but by a popular demand -- a continuation of a 10-year-old traditional series of "Kurland Round" rallies. This brand usually attracted visitors from up to 12 countries and 60% of them have been coming back to this unique rally at the hart of the Baltics...
My son Robert and I have been very active this riding season, attending different rallies around Europe, trying to find out how people organize rallies in different countries.  One conclusion we have come to is that the "Kurland Rally" concept of a Road Reliability Trial and other traditional ingredients, such as visits to old castles and concerts by famous performers -- is the right thing to follow. It will be an IT – an International Touring event  with culture elements by FIVA definition.
This riding season we travelled on a 5300 km round trip to Italy to attend the FIVA World Motorcycle rally in June/July, we have taken part in the Estonian Kurtna anniversary motorcycle rally, the AAK 40th Jubillee rally, and last but not the least, we took part at the Swedish Skane Rundt 100th anniversary rally. My trusty 1913 REX/JAP De Luxe motorcycle with belt drive has covered over 800 kilometres total this riding season in scorching sunlight in Italy and through torrential rain at the Swedish rally – at the latter doing 250 kilometres each day on this veteran motorcycle! It never let me down and all it needed was routine maintenance and adjustments, so characteristic to veteran machines.
I can now unveil in general lines the next year's  Provisional Programme as follows:
The 2013 FIVA Motorcycle rally participants will assemble in the afternoon of 18th July, 2013 for signing on for the rally at the entrance to  the Bikernieki Racing Circuit, which is adjacent to the Riga Motormuseum  and is situated only 8 kilometres from the Riga ferry port.  
We have verified the Road Run route and I can hereby reveal the facts about the distances involved.
The 4-day event will consist of a Social Run on day 1 with 70 kilometres to the SPA Arkadia hotel at Apsuciems on the coastal road through the city of Jurmala.
The 3-day Road Reliability Trial will start on day 2  – with a distance of 500 kilometres.
 We will follow the coastal road through Kolka to Ventspils and spend the 2nd night at the Olympic hotel in Ventspils.
The following day – Saturday will see us travelling to Edole castle and the  medaeval Hanseatic  league town of Kuldiga,  which is situated  by the widest waterfall in Europe on the river Venta. Kuldiga  will be a very busy place  during our visit, as it will have a town festival in full swing!
We will spend two hours sightseeing in town.
Our next stop will be at the Jaunmoku castle for an evening cup of tea or coffee.
 We will finish our day's riding in Jelgava.
On Sunday morning we will assemble to make a group photograph of the participants in the courtyard of the Rastrelli-built Jelgava palace – the biggest University in the Baltic states. Next year it will be 275 years old.
After a visit to the magnificent  Rundale palace and gardens the Road Run will finish at the medaeval Bauska castle which is 70 kilometres from Riga and only 20 kilometres from the border with Lithuania.
Pre- and post-rally accommodation will again be available at hotel Skanste. The participants will be asked to make their own bookings for early arrivals or late departures with Hotel Skanste. Deatails to follow.
Hotel Skanste is situated in a convenient place, 10 kilometres from the Riga airport, 3  kilometres from the ferry port and 6 kilometres from the rally registration desk. Trailers and vans can be left at hotel Skanste. People travelling on the Stockholm – Riga ferry actually do not need to bring trailers or vans as the start and finish of the rally will be situated within a very reasonable distance from the ferry terminal and we will have technical assistance vans and luggage vans following the rally.
As it will be a motorcycle rally with 3 hotels en route – the dress code will be "casual", so please limit your travelling baggage to sensible size.
 There are very few big hotels in Latvia, usually these are situated in bigger towns and cities, therefore our day's maximum will be over 200 km although in average it will be around 165 km a day. Yet you need not worry because our roads in Kurland over the weekend are unpopulated and there is very little through traffic. Only about 10% of the routes will be major roads, the rest will be secondary  roads. Some access roads will be white gravel, but no more than 2 or 3 kilometres each. There will not be steep and prolonged gradients as most of Latvia is flatland. Our secondary surfaced roads are like everywhere else in Europe, some are bumpy with a few potholes, some very smooth and enjoyable.
We have learned a few things over the years of organizing those Kurland Rallies and one of them is order and discipline. By order and discipline we mean that all participating motorcycles will be sorted (by a computer) by their manufacturing years or by riders'  preferences to ride in groups with friends and they will be alloted numbers – large enough to read from a distance! The alloted numbers will at once place the older motorcycles in the 1st group and the subsequent groups will be with younger, faster and easier to ride motorcycles. Thus  the older motorcycles will  always be  first off from the start line, followed by their younger brothers – without any fuss or hassle. We are not planning to use police escort for this long distance event, therefore our travelling marshals will help the riders to relax and enjoy the countryside to the benefit of all concerned. One of the main tasks of the marshalls will be to make sure that the participants make it to  the table on time for all the rally meals will be hot!
We are now working on the Rally Regulations and Entry Forms and of course the Rally presentation which is due at the FIVA General Assembly in Munich at the end of October. We will coordinate the menus of those 9 meals of the rally at the beginning of the year and of course we will take our time to choose the appropriate venues and performers for those several rally concerts.
Although we have said before that we will accept all FIVA age categories of motorcycles, it is my duty as an organizer to discourage FIVA category A -- Ancestor and B – Veteran motorcycles from taking part in this long distance touring event, because of the distance involved. On the other hand, I have ridden my 1913 REX/JAP over the rough Kurland roads for 180 kilometres – the whole first rally day at the 2011 event and there were no other problems apart from aching wrists!
After all it is at the discretion of the entrant to decide if his machine and he himself is fit for this type of event. My duty is to provide the true facts...
Older and pre-war motorcycles will  have a preference in case of overbooking.
FIVA is stipulating that FIVA World Motorcycle rally participants should have FIVA ID cards. As some of our regular participants with very nice historic motorcycles may not be in a position to obtain these FIVA ID cards, we will accept their entries for the 2013 event without FIVA ID cards. Yet photographs of these motorcycles will have to be provided with Entry Forms and last minute changes  from historic to modern machines will not be permitted.
The Rally will be limited to 80 motorcycles or crews and the Entry Deadline will be 15th April, 2013. Entry Forms and Regulations should be available before Christmas.
If you have any further questions, please do not hesitate to get in touch. I do have a habit of answering e-mails right away, unless I am out of office.
Juris Ramba
Organizer
FIVA World Motorcycle Rally in Latvia 2013
RALLY NEWS – February, 2012.
 Hi All, 
 I can report that a new, shorter version of the 2011 Kurland Rally video has just appeared in the Youtube – the link is as follows – enjoy!
 With best wishes from snow bound and cool Latvia,  
Juris
News – December, 2011.
 Well, it is not a big secret that this year's Kurland Rally was a success although there will always be space for improvement...
 I am writing these lines after a year of hectic activity in all spheres of life, not only rally organizing... After all I turned 60 this year and it has become a tradition here to celebrate birthdays with more activity than usually... 
March saw Robert, my youngest son as mechanic/cameraman and myself off to the London -- Brighton Pioneer Run, running my 1913 REX/JAP in solo trim. The Run went well indeed  with 374 machines at the start line and I managed to do the whole distance of around 80 kilometres, running on Russian petrol without the dreaded methanol. I had a little scare when at a coffe stop the oil adjuster jumped out and flooded the front cylinder with oil – luckily the machine was standing still and the adjuster could be easily found... 
Our next run was the Banbury Run in June.  There were 600 machines at the start line. This time Robert could ride pillion and we thoroughly enjoyed the Run and the new venue at Gaydon Motoring Centre and our REX/JAP even managed to climb the dreaded Sunrising Hill, although Robert had to jump off when the going got difficult towards the top of the hill. This Run added another 100 kilometres to my season's total on this veteran machine. The season's total mileage being nearly 400 kilometres! Remember this is a veteran and almost half of that was done riding on the wrong side of the road! 
 My REX/JAP was delivered back from the UK together with other machines for the 2011 Kurland Rally one day before the event – so I added some oil and petrol and off I went on the first day's grind over the rough Kurland roads, riding in front of everyone as I had to oversee the proceedings. Well, riding in front of everyone is also good for the veteran brakes which have reduced stopping power...
The 1st day took us through 6 castles and we clocked around 200 kilometres on a glorious day. As this year's Kurland Rally took 4 days of riding I chose my 1968 Velocette Viper Clubman for the other 3 days, as I had to stay in front and sometimes had to overtake others for organizational reasons. It would have been difficult on a veteran machine to do the whole rally as an organizer, so I only rode my REX/JAP on the first day and it did not miss a beat, nor did it lose any nut or bolt in the process...
The rally went down well with the participants of whom more than a half were regulars from previous events, which is a good indication that the rally formula is right. 
 By now you will probably have already seen this year's rally photos in this website in Gallery 2011.  
Since April  I have written and posted 200 items in our club's website (www.aak.lv ) Forum and I am pleased to note that some of the posts have been read more than 500 times! Unfortunately most of them are in Latvian.  
Then in mid-November I jumped the plane and went to Washington D.C. to attend the FIVA General Assembly. FIVA is the International Historic Vehicle Federation and I had to see that the AAK of Latvia was again enrolled as a member of FIVA. This trip was important for myself and for my club as I could make contacts with other delegates from all over the world and discuss important issues. 
I have been asked to organize a FIVA World Motorcycle Rally in Latvia in 2013 by guys from the FIVA Motorcycle Commission. I have done my homework and so we are going to have an exceptional Kurland Rally in 2013 – a Coastal Touring Run – A Road Reliability Trial of 500 kilometres with 6 castles to visit and a group photograph taken in the court yard of the biggest University building in the Baltic states!  I must run now and start to make preparations for the Rally! Yes 2 years in advance! 
Merry Christmas Everyone!  
 Juris 
Rally News – July 2011. 
Hi Everyone,
 The rally preparations are all underway and we are going to have a really memorable event with plenty to see and experience and also we have made sure there will be some interesting surprises in stock for you all! Therefore I have to announce that we have reached the point of no return – your Entry Fee has been paid up front for the hotels, the restaurants, T-shirts have been ordered, various music performers have been booked, rally souvenir awards have been ordered... 
The time is approaching when every participant of the 2011 Kurland Rally will be packing his tools, tyre levers, spare tyre tubes, chain links, cables, favourite grade of oil and 40 other items that a gentleman is supposed to take on a long journey with his motorcycle… You may of course leave most everything at home, or forward with your machine by a carrier, only please do remember to take your passport, your valid driver's licence, your vehicle documents and your 3rd party insurance policy with you as well as some money in cash or credit card. Latvian Lat is the official currency in Latvia, but you can exchange your Euros or Pounds Sterling, Dollars currencies in money vending booths almost everywhere in Latvia.
 Petrol in Latvia may be cheaper than somewhere else in Europe, but single grade oil is only available at certain outlets. There will be a 50 SAE emergency oil supply can in one of the vans, but please consider this issue carefully as we cannot supply everyone with oil! There will be a first aid kit, an air compressor, a brazing torch, tyre levers and some other basic tools with us in the back-up van. No one will be allowed to make major repairs on his motorcycle at the roadside! There will be a technical back-up truck, which will collect the unlikely broken down motorcycles and will deliver them to the next planned stop. Everyone is supposed  to be at the table for the meals at set times, so please respect the comfort of your comrades as you would expect to be respected yourself. 
Our Welcome Dinner at Hotel Milzkalns is at 21.00 hours on 14th July 2011. At 20.00 hours there will be a concert for participants and guests. Please do not be late! The Sign on and Reception for the Kurland Rally participants will start after 16.00 hours at hotel Milzkalns. I will publish the Rally Entry List on our website shortly before the event. We have 35 machines on the list from 9 countries, hopefully everyone will turn up on the day! The weather now over here is warm -- 25 degrees Centigrade and by tradition it should stay like that for another few weeks. 
Have a safe journey to the Kurland Rally,
 Your rally organizer, 
Juris 
 Mobile phone + 371 29255601  
Rally News – April, 2011 
Dear  "Kurland Rally" participants, 
Time is flying fast and we have reached Entry Deadline which was set for 15th April for logistic and hotel reservation purposes.  As the "Mototrans"  van still has at least 5 bike places vacant we have extended the Entry Deadline by a few weeks, but only for those  participants who will be forwarding  their bikes from the UK to Latvia and back by the Mototrans van!  So far we have the following number of machines by country on the preliminary list:
1)      GB – 10
2)      N – 7
3)      FIN – 7
4)      S—2
5)      D—2
6)      USA – 1
7)      AU – 1
8)      LV—4
This number of machines may change by hopefully another 5 in the next few  coming weeks .
 The number of participating people is 40 so far, so we will have a cozy little rally like in 2009!
Kurland is an ancient territory and there are a few surprises in stock for this year's participants as well!
As the Organizer's account is filling up I can already start paying deposits for  banquets, rally hotel reservation and leave a few rooms on reserve.
Our pre- and post- rally base hotel SKANSTE in Riga has been booked by those who will travel to Riga by air and those who will arrive overland or by ferry, bringing their machines by vans or trailers. As I have indicated previously those people, who will be staying at Hotel SKANSTE are advised to leave their vans in the hotel car park. The Mototrans transport from the UK will be unloading bikes at the rally start at hotel Milzkalns, near Tukums and will be collecting the bikes at the rally finish at Bauska, or alternatively – at hotel SKANSTE. Participants are advised to take a taxi to Hotel Milzkalns in groups of 4 or 5 people – on 14th July in the afternoon. The distance from Hotel SKANSTE to hotel Milzkalns is 60 kilometres. The distance from the rally finish point at Bauska to hotel SKANSTE is 80 kilometres.
I will make enquiries about the possibility to leave the acompanying transport at a secure parking lot in Bauska near to the rally finishing point for those who are interested in such an option.
Unloading of bikes and registration will commence after 16.00 hours at hotel Milzkalns car park. The concert will be at 20.00 hours, followed by a Welcome Dinner.
Some of the technical assistance and logistics vans will stop by at Hotel SKANSTE in the afternoon on 14th July. We will also have some marshalls on duty – they will accompany those participants who will be riding their machines from hotel SKANSTE to the rally start at hotel Milzkalns.
Should there be any urgent questions or emergencies, please do not hesitate to get in touch. My mobile phone No. + 371 29255601
Please ride safely,
Juris
Your Kurland Rally Organizer
Rally News- February, 2011.
I have some good news to begin with! I have volunteered to negotiate with Mr. Chas Mortimer, Manager of Mototrans Ltd. – a reputable motorcycle transportation company based in the UK - http://www.chasmortimer.com- re transportation of motorcycles from the UK to the Kurland Rally.
I thought I had to do it because the British contingent of the Kurland Rally has grown over the years and, despite the long distance, it was over a dozen machines in 2009. The AAK of Latvia, besides, is affiliated with the VMCC.
For feasibility 12 machines are the minimum for transportation. They will be transported in specially equipped vans. Mototrans company transports motorcycles and cars for Bonhams auction house, so they know well how to do it properly. Motorcycles can be collected from anywhere in the UK or in fact from anywhere in Europe  (i.e. off route) at extra charge.The assembly depot for machines will be the Mototrans depot at their Kent base. It has been agreed that the machines should be assembled for transportation at least 10 days before the start of the rally, i.e. all machines must be at the depot before 4th July. If a machine must be collected please allow 30 days before start of the rally.
The transportation cost will include full insurance, the return transportation of a solo motorcycle, riding gear and spare parts/tools from the UK to Latvia + VAT. Participants from Germany who live close to the overland route from the UK to Latvia will also be able to transport their machines to the Kurland Rally and back.
Special Motorcycle Transportation Forms are ready and can be requested from the organizer together with Rally Entry and Accommodation Forms.
The Finnish and Norwegian participants as usually will make their own group travel arrangements and they will organize transportation themselves. There will also be those daring long distance riders who will come to the rally "under their own steam".
From our previous experiences with credit card payments – please note that in the interests of all concerned it is important before giving your credit card details for the payment of Rally Fees to advise your bank that you are expecting withdrawal of funds for the Kurland Rally by the SEB bank in Latvia. Otherwise your bank may be treating this transaction as suspicious/fraudulent and will deny transaction authorisation...
Please ride safely,
Juris
Rally News – December,  2010.
Hello All, 
An other winter is upon us and here in Latvia it is really snowing and the snow here is to stay for much longer than in Britain, for example. Preparations for the 2011 Kurland Rally are well underway and with accomodation details finalized, I am now working on the 9 menus and music. 
With information on the 2011 Kurland Rally published early in some of the motorcycle club magazines in the UK, Finland and elsewhere, we have well over a dozen people on the Provisional Entry List already and that is more than a week before Christmas!  This can only mean that prospective participants (some who have been there before and others yet to visit us for the first time) now trust me, my organizing team  and my country to run "a rally with a diference"! 
As has become a tradition I will have some surprises in store for the 2011 event as well – so not all the details will be available on the rally website. Well I almost forgot to mention that I have  told my wife Gunta already in October (which is very early for me!) about my intentions to organize another Kurland Rally for  2011.  She took it with a big smile! 
Let me wish you all a Peaceful White Christmas and a Happy New Year!
Juris  and the Organizing Family 
Rally  News - October, 2010.
This summer Latvia experienced 3 weeks of a record heat with day temperatures staying around 30 - 35 degrees Centigrade mark. The old adage that cold winters bring hot summers has again proven right. Luckily we did not have a Kurland rally this year! The weather would have been too hot for a comfortable ride...
However my mind is hatching plans for one more Kurland Rally -- next year -- 2011, the dates being 14th -- 17th July. I have been researching the subject and by popular demand the rally will be on again under more or less the same format. There will be some interesting surprises though -- much improved accommodation standard on day 2, at least one meal at a medeaval castle with ancient eating traditions, and finally some of the best music money can buy in Latvia ... There are plans of a good dozen of castles and manor houses to visit and about 650 kilometres to ride in the reliability road trial -- a no mean feat for man and machine, -- so good preparation is essential!
Please scroll down for the maps and earlier News items as many of these will apply to the 2011 event.
Some form of transportation of motorcycles from  the UK to Latvia and back like in 2009 is very likely to be organized and there are still agreements to be made, but this will of course be subject to enough motorcycles to transport, 8 to 10 machines being the feasible minimum  for the transporter.
As previously for logistic and other reasons this will be a small rally by the number of machines (maximum 50) and participants, although a great event by its spirit of course. The Entry Deadline for this rally will be 15th April, 2011.  Please make your decisions early -- this will help to avoid dissapointments for everyone concerned.
Historic motorcycle enthusiasts from  all over the globe are invited to sample Latvian hospitality once again.
Ride safely,
Juris
Rally News – December, 2009.  
As I am typing this Kolka, our 2007 Kurland Rally destination, is literally deep under snow! Such snow has not been experienced in this region for the last 40 or so years. Average snow depth is currently 1 metre and it has reached 2 and 3 metres near houses meaning that people could not even open the doors in the morning! This has meant that vital food supplies and electricity was cut off from the households for a few days. Yet the optimistic Kolka people were seen to take this more as fun than a catastrophe!
So this winter is cold and white in Latvia with subzero temperatures at night reaching – 20 deg. Centigrade and in the daytime staying around 10 degrees. This year's Kurland Rally impressions will have settled down in the minds of this year's participants, like dust on a windless day on some of Kurland's roads after a motorcycle passes down the road.
Yet the oldest ever participant of this event – Neilsen Frederic Webster from the UK has written a rally report, which has been added  with kind permission of the author in the 2009 Results and Rally Reports section of this website. I hope you will all enjoy reading it! 
Here is Wishing You All a Merry Christmas and a Prosperous New Year!
Ride safely,
 Juris    
Rally News – July, 2009. 
Hi All, 
The rally preparations are all under control and we are going to have a really memorable event with plenty to see and experience and also I have made sure there will be some interesting surprises in stock for you all! Therefore I have to announce that we have reached the point of no return – your Entry Fee has been paid up front for the hotels, the restaurants, T-shirts have been ordered, various music performers have been booked, rally souvenir awards have been ordered... 
The time is approaching when every participant of the 2009 Kurland Rally will be packing his tools, tyre levers, spare tyre tubes, chain links, cables, favourite grade of oil and 40 other items that a gentleman is supposed to take on a long journey with his motorcycle… You may of course leave most everything at home, or forward with your machine by a carrier, only please do remember to take your passport, your valid driver's licence, your vehicle documents and your 3rd party insurance policy with you as well as some money in cash or credit card. Latvian Lat is the official currency in Latvia, but you can exchange your Euros or Pounds Sterling currencies in money vending booths almost everywhere. 
Petrol in Latvia may be cheaper than anywhere else in Europe, but single grade oil is only available at certain outlets. There will be a 50 SAE emergency oil supply can in one of the vans, but please consider this issue carefully as we cannot supply everyone with oil! There will be a first aid kit, an air compressor, a brazing torch, tyre levers and some other basic tools with us in the back-up van. No one will be allowed to make major repairs on his motorcycle at the roadside! The technical back-up truck will collect broken down motorcycles and will deliver them to the next big stop. Everyone will be supposed to be at the table for the meals at certain times, so please respect the comfort of your comrades as you would expect to be respected yourself. 
Our Welcome Dinner at Hotel Milzkalns is at 20.00 hours sharp on 16th July 2009. Please do not be late! The Reception for the Kurland Rally participants will be there after 16.00 hours.
The weather now over here is very hot, + 28.5 degrees Centigrade and hopefully it will stay like that for the rest of the month. Have a safe journey to the Kurland Rally, 
Juris Ramba
Mobile phone + 371 29255601 
Rally News – May, 2009.  
Dear All,
I am pleased to note that despite the worldwide crisis we have a good selection of interesting machines from 10 countries represented. Please see the Entry List on this website. I am especially satisfied to count nearly 20 pre -1939 machines on the list, a fact that means that people have started trusting this event.
I can also add that the majority of the route will consist of asphalt roads with only a few access roads being white dusty ones. I had intended to post photos of the participant's machines on the rally website, but since I have not got all the photos in digital form and some are yet to arrive, I decided to only post the Provisional List of entries. 
This is the last call for those who have been considering taking part in the 2009 Kurland Rally, but have delayed sending in their Entry and Accommodation Forms. We still have a few vacant hotel rooms, so another 4 or 5 machines and riders could be accommodated in style. I have kept the reservation on those extra rooms for latecomers, just in case. As you may remember the need for an early Entry Deadline was caused by the requirement to pay a deposit to the hotels in advance.
Tent accommodation does not seem popular this year, judging by the lack of interest in this form of accommodation. Maybe that is because the majority of participants are of ripe middle-age or family people.
While working on the rally route planning, I was pleasantly surprised to learn that there have been important major developments taking place along the trodden paths of the previous Kurland rallies and the past participants will be able to compare and appreciate some new surfacing on the streets of Kuldiga as well as the recently renovated historical bridge…
In the meantime, while planning a 30-minute stop at a 15th century castle ruins we are now going to spend an hour at a fully rebuilt and renovated castle, which has risen like a foenix from the ashes at the same venue and, which has been opened to the public from the beginning of May, 2009!
This is it for the moment. 
Ride safely, 
Juris
Your Rally Organizer
Rally News – February, 2009. 
Hi All, 
Time is flying fast and we are already well into the year 2009.  This winter has been rich in snow over here in Latvia and that means that the coming summer will be hot and sunny… The Rally Entry and Accommodation forms as well as enquiries keep coming in at a rate of at least 2 per week which is a good sign so early in the year. May I kindly request the prospective participants to read and fill in all the required information on the forms, otherwise it takes a lot of my time to write back to each participant and request the missing T-shirt sizes or other relevant information. Please do not be shy to write a few sentences about your machine and yourself for the use of the commentator. It will at the end of the day also help the locals and the participants to find out some interesting facts about the machines and the riders and will help to create the right rally atmosphere and foster camaraderie. Please help me to make this rally a memorable one! Preparations for the 2009 rally are well underway and all the hotels and meals have been pre-booked and arranged for. Work is progressing on other arrangements too.  For example permission was granted already before Christmas to take a group photo in front of one of the most beautiful palaces in Latvia. Hotel "Skanste" – the place to book if you are coming  to Riga early or staying after the rally have announced that their prices are now based on "first come, first served" principles and early bookings get even greater discounts. Please remember that the rally Entry Deadline is 15th April – dictated by the need to make advance payment to the hotels en route by the end of April to secure accommodation without problems. Unlike the previous years when almost everything happened in the courtyard of Slokenbek, we will now have accommodation in 3 hotels and 9 meals in even more places and that is requiring more advance planning and early notice.   A regular Kurland Rally participant and Matchless guru, Pat Gill from Enfield, UK has told me that he is considering taking his Mercedes-Benz sprinter van with a box body with loading ramp to Latvia for the Kurland Rally. He can easily accommodate 6 or more solo motorcycles in this van. It is even wide enough to take a wide sidecar outfit. This could be a good option for those who have older machines, but are reluctant to ride them all the way to the rally. Also those who cannot afford an extended holiday could ship their motorcycle with Pat, and themselves fly to Riga. Please consider this option and contact Pat for details, his e-mail address is: Matchlesspat@aol.com  Phone: (work) 020 8804 2002,  (mobile) 07970551360. Two motorcyclists have expressed their interest already and at least 3 more would be needed to justify the expenses. Please tell me about your plans and itineraries early as I can then put you in touch with other travellers from your country so that you can enjoy good company on the ferries or maybe join each other on the road. Travelling in a group, for example, through Poland would be recommended as it is much safer, especially if you have to leave your vehicle unattended when shopping for petrol, meals, etc. As a regular participant to rallies in Latvia since 1990 Neilsen Frederick Webster from the UK once told me "travelling to the rally is half of the fun!" Payment of the Rally Fees is possible by using a proper VISA or Mastercard credit card or by direct bank to bank money transfer. Our bank regretfully cannot authorise payments made in absence of the purchaser from VISA Electron, or any other debit cards. This is all my news for the moment.  Almost forgot -- I am now adding articles and making all the changes to this rally website myself -- I am learning all the time!
Ride safely,  
Juris
Rally News – December, 2008.
Hi all,
The next Kurland Rally is going to be a challenge -- a challenge to organize and a challenge to participate in it! Why? Because there are more castles, palaces and manor houses in Kurland than it would be possible to visit conveniently and at ease during those 3 riding days of the rally.
Medieval castles on the silhouette of present-day Latvia.
With this I mean to say that a certain degree of discipline, determination, stamina and skill will be required from the participants as well as the organizers to make things happen on time. This rally is certainly not for the faint hearted! Yet I am sure its value for money spent will be good!
The decision has been made to start early – on Thursday afternoon which is our assembly date and not on Friday as traditionally. It will be a challenge to participants and their machines because of the untraditionally long distance, (95% of it will be on asphalted roads) those 9 Rally Meals to consume, a dozen of castles to inspect, memorize and take photos of and of course the beautiful Kurland countryside, flora and fauna and large amounts of really fresh air to breathe…
Machine eligibility for this rally is 30 years, not 25. Thus motorcycles manufactured up to 1978 please! In case the rally will not be overbooked we will allow some younger machines, the riders of which will receive all the benefits of participants, except they will not be awarded Rally Prizes – only Souvenir Awards.
The planning stage of the 2009 Kurland Rally is drawing to a close and I must say that the statistics of the rally, such as the number of meals, accommodation places, coffee break places and lunch break places, number of music bands, etc., due to the changed format of this rally have greatly increased. As we are going to start early every day of the rally and spend 3 nights in different locations and lose our energy through riding actively, the run will be un-timed throughout the whole distance with the reliability element of the road trial as such being one concern and reaching the destinations for hot meals on time being the only other concern! There will not be route cards – only maps with identified route and you will be travelling safely with travelling marshals in reflective bibs, taking care of your security and timing for the meals and destinations. Your extra bags will be carried in vans that will take them to the next lunch or accommodation location for your convenience. We are planning to have at least 2 vans for bags and 1 back up van for those most unlikely break downs. There are certain identified addresses of restorers en route who can help with welding and machining work if required. Anyway, needless to say -- please prepare your machines thoroughly!
Yes, security wise your machines will be locked up in garages where possible or they will be guarded during your overnight stay at the hotels.
Please do not be surprised if the Rally Entry and Accommodation Fees for the 2009 Kurland Rally will appear to be expensive, compared to previous years. They will include and reflect longer stay at better quality hotels, food, beer, music, guarded vehicle parking, pre-paid visits to castles and palaces, special souvenir awards, rally numbers, T-shirts and more. After all it is a longer event as usual.
This unique rally will again be organized and based solely on Entry and Accommodation Fees, with no sponsorship as such. As on the 5 previous rallies yours truly will be the main organizer of the rally -- as Managing Director of the RAMOTO Ltd., which will be the main responsible organizing body. 
When leaving your home country for going to Latvia, please remember to take your vehicle registration documents with you as well as your passport or travel document, driver's licence and your third party insurance!
Please take note of my mobile phone number + 371 29255601 . You can always call or SMS me if there is an emergency while you are in Latvia or if you have any questions that need immediate answers.
There are several car ferry routes operating from European ports to Latvia , such as Travemunde – Liepaja, Stockholm – Riga, Lubeck – Riga, Karlshamn – Ventspils, etc. and there is also an option to travel to Klaipeda in Lithuania or Tallinn in Estonia and take the overland route to Tukums. Tukums is 60 kilometres from Riga, 140 kilometres from Ventspils and 160 kilometres from Liepaja.
The rally assembly point and reception will be at hotel "Milzkalns", Tukums region, Smardes pagasts "Dizkalni", Latvia, LV-3148. Please see the plan below. It is easy to find as the new location is very close to Slokenbek – our old rally base.
It is suggested that if you bring your motorcycle on a trailer or in a van – leave it at Hotel Skanste in Riga and ride those 60 km to Tukums on your motorcycle. We can arrange picking up your extra bags from Riga and also our marshals will be available to accompany you to Tukums on their modern machines. This is in your best interests because the rally will finish on Sunday afternoon near Bauska which is 80 kilometres from Riga and 140 kilometres from Tukums in the opposite direction.
As in the previous years early arrivals and those participants who would like to stay in Riga after the Rally are advised to make a hotel reservation at the SKANSTE hotel which is conveniently located in Riga. It has a parking lot for vehicles and is friendly to motorcyclists. The website of the hotel is http://www.hotelskanste.lv/ and their e-mail address is: HOTEL@HOTELSKANSTE.LV Fax: (+371) 67519921, Phone: (+371) 67519922. Please remember to mention the magic phrase "KURALAND RALLY" and you will be immediately entitled for a considerable discount!
Due to the number of hotels, guest houses and restaurants involved, the rally Entry Deadline is 15 th April, 2009. The hotels en route require 50% down payment by the end of April and they mean it!
Ride safely,
Juris Ramba
Rally organizer
---

 
 
Rally News - April, 2007

My son Robert and I are back from a 2-week trip to the UK, where we took part in the Pioneer Run. We reached the start line at Epsom Downs all right, started the machine with the crank handle and took the start. The first mishap was gas blow-by on the primer cock - the spring had sagged and it was blowing by with consequent compression loss in the front cylinder. It later transpired that the plugs were too cool and the rear one was soon fouled. After swapping the plugs it started to go like hell and I descended Reigate Hill with no problem. At the bottom of the hill my map reader and pusher Robert remained with Pat on a 1929 Matchless model X as we decided that it would be easier to master the hill on my own, so the sidecar was empty for the ascending run. Further down the road I missed a turn and was drawn onto a motorway in the wrong direction: the M25 and M23! I did about 15 miles at speed on the motorway until it ended and I ran out of fuel. Then I could not start the bike (it has a crank handle and you have no choice but to crank it by hand!), my mobile phone battery went flat and I had to call it a day. Pat's friend with a van picked me up after 2 hours and I could at least take photos of other participants at Madeira drive, Brighton...

I had worked 14 and 16 hours a day for the previous 2 weeks to get the machine finished -- the sidecar springs I only got from the heat treatment 4 days before going to the ferry. The winter was very severe and I could take the machine to the road only 2 days before having to go to the ferry, therefore I had too little time on the road to sort everything out. I mainly had 3 problems: sticking throttle slide at about 1/3 open -- providing lots of adrenalin when going around corners(!), wrong ignition timing in front cylinder (expensive autojumble magneto - 50 degree, but not quite so), rear hub clutch maladjustment, resulting in belt falling off the pulleys and sometimes snapping. I will now be considering getting a solid belt with a connecting link (as per original catalogue) instead of the link Brammer type belt as obtained from Willem Pol.

I have left the bike with Pat as my son and I will be flying back on 23rd May to catch the ferry boat to the IOM and we also intend to do the Banbury run on 17th June. These little things will have to be sorted in a couple of days before going across, so I have to prepare everything for a quick job. I must admit I am a novice on those veteran big twins, hub gear and belts. Anyway the engine seems to be running well even despite wrong timing - the rest I should be able to sort out. I should be bringing the bike back for the Round Kurland Rally in late June.

Talking of the Round Kurland Rally - I received a message from Neilsen Frederick Webster: he has had an operation in his other eye and is hoping to do the Kurland rally again this year if his eye is OK. I think everybody will join in wishing Neilsen a speedy recovery!

The rally base at Slokenbek has been revamped with just another newly refurbished hall for banqueting - we will be using it for our welcome dinner on 13th July. A good portion of the yard in front of this newly refurbished hall has been covered in cobblestone, enhancing the looks and keeping dust at bay. This year the theme of the Rally will be: World's forgotten languages and cultures - the Livs' language and the culture of Kurland. You can read more about our plans elsewhere on this website.

Please note that this year the official Entry Deadline is 15th May as a lot of things have to be done in good time for a bigger number of visitors.

Please note also that my mobile number has been changed - it now is: + 371 29255601

 
 

Please ride safely,

Juris

Click the thumbnails to download full-sized photographs
    

 
 

---

Rally News - January, 2007

As I write these lines winter has finally set in over Latvia with some frost and at least 5 inches of snow. The weather so far had been so unusually mild for this time of the year that even the hibernating bears did not fall asleep, a lot of birds have stayed in Latvia for the winter and people were picking mushrooms in the forests last week - in mid-January??? This mild weather has of course facilitated work on this year's Kurland rally - the whole route was travelled before the roads became snowbound…

Time really flies and the Round Kurland Rally for Historic Motorcycles in Latvia will be in its 5th year this summer. The rally concept has been gradually and painstakingly developed and improved each year and it has finally established itself as the best event in its category in the Baltic States. This is manifested by the constantly growing number of foreign participants, some of them coming back every year, and the increasing degree of satisfaction with the rally format and the value for money spent. None of the other vintage vehicle events in the Baltic States in the last 5 years have offered such physically exhaustive, culturally saturated and atmosphere friendly event which is designed entirely for the fun of riding old motorcycles in good company on the background of the best landscape of Western Latvia - Kurland.

This reminds me of our rally group photograph as taken for the first time in 2006. Like many other things traditional, it will also become a trademark of our rally with a changing background for each and every rally. I could not find a better Christmas Greetings Card than this 1st group photo and suddenly my good friend Ed Youngblood, Past President of the American Motorcyclist's Association for 17 years, asked me if he could use it in his website WWW.MOTOHISTORY.NET with solstice greetings to motorcycle enthusiasts all over the world! It is the spirit and common interest in things motorcycle that unites us all, despite our religious and cultural beliefs - such was Ed's message…

This year the Road Run route will be something special - it will take us along the coastal road to the Cape of Kolka where the spirit of Livs is still alive…Once powerful and daring seafarers and fishermen, these tribesmen were the ancestors of the Latvians. The Livs language is more akin to the Estonian and Finnish-Urdu language group than the Latvian language which belongs to the Indo-European language branch, with Lithuanian and Old Prussian the only two other relating languages. It is said that there are only about 300 current speakers of the Livs language in Latvia today…

Anyway this phenomenon of the disappearing by assimilation of an ethnic culture and language will be our theme in 2007.

I am pleased to note that another big hall is being refurbished at the Slokenbek estate and it is promised that it will be ready for this summer. The estate has changed hands recently and the new owners are investing heavily in restoration of the old buildings. This may also be the reason why we have not yet been provided with hotel prices for 2007.

Finally may I add that we have tried hard to keep the Rally Entry Fees from rising for the last few years, but the inflation in Latvia, like everywhere else, is rising and if we want to retain the initial Rally Concept of being independent of any sponsor's whims, we have had to substantially raise the Entry Fees to cover the costs.

It is still a small Rally and that is its beauty…

 
 

Ride safely,

Juris Ramba
Rally organizer
+371 29255601

 
Click the thumbnails to download full-sized photographs
   

 
 

---

Have a safe journey!

I have prepared 2 maps with directions for those who will be riding on their own to Slokenbeck or to the Riga Motormuseum. Please click on the buttons below to see a larger version of each:

 
 
 
 
 
 
 
 

To get to Slokenbeck, which is situated at Milzkalne near the town of Tukums, you have to take the Riga - Ventspils road, A10 (E 22). You can see on the map the village of Smarde on the right hand side of the A10 after about 60 kilometres. When you approach Smarde you will see a brown signpost -- Slokenbeck 14 km on your right, if coming from Riga. Turn right at that signpost and follow the signs to Milzkalne and Slokenbeck all on asphalt road.

Should participants have any problems, technical, mechanical, accommodation before or after the rally, etc., please do not hesitate to get in touch with the organizer, Juris, mobile Phone No. 29255601.

Early arrivals wishing to have lunch are advised to visit the LIDO "Windmill" self serve restaurant on the Krasta street - a distinctive huge log building, made like a windmill on A6 (E22) which is parallel to the river Daugava in the direction of Daugavpils. The place is very democratic and motorcycles can be parked at the guard's house under the watchful eye of the gate guards. The choice of food is enormous and the place is affordable, clean and tidy. A visit there is an experience in itself and a must when you visit Riga!

Ride safely,

Juris Ramba
ramoto@apollo.lv
 
 
 
 

---

For those who are coming to Latvia for the first time, here is a short list of major events in Latvian history: 



LATVIAN HISTORY

1561

Latvian territory partitioned: Kurland (Courland), south of the Daugava became an autonomous duchy under the suzerainty of the Polish crown. Livonia, north of the Daugava was incorporated into Poland under the name Inflanty.

1581

Riga incorporated into Poland.

1621

Riga taken by Sweden.

1629

Vidzeme ceded to Sweden, Latgale remained under Polish rule.

1710

Riga taken by Russia under Peter the Great during the Great Northern War.

1772

Latgale annexed by Russia at the first partition of Poland.

1795

Kurland annexed by Russia at the third partition of Poland. The whole Latvian nation was by this step now subject to Russia.

1905

The idea of an independent Latvian state was openly put forward during the Russian Revolution.

1914

World War I.

March, 1917

After the Russian Revolution the Latvian National Political Conference asked for complete political autonomy.

Sept. 3, 1917

Riga taken by the German army

Nov., 1917

After the Bolshevik coup in Petrograd, a Latvian assembly was convened at Valka.

March, 1918

Latvia was ceded to Germany under the treaty of Brest-Litovsk.

Nov. 18, 1918

Latvian independence proclaimed after the collapse of Germany.

Jan. 3, 1919

Russian army took Riga as Russians claim treaty of Brest-Litovsk was null and void.
Ulmanis government moved to Liepaja where it was protected by a British cruiser and six destroyers.

Feb. 3. 1918

German army arrives at Liepaja with the aim of driving out the Reds and creating a German-controlled Baltic State.

May 22, 1919

Riga taken by German forces.

June, 1919

German forces defeated by Estonian and Latvian forces.

July, 1919

Ulmanis government returned to Riga.

Oct. 8, 1919

German forces take Riga Suburbs South of the river.

Nov. 10, 1919

German forces retreat to East Prussia.

Aug. 11, 1920

Russia renounces all claims to Latvian Territory.

June 16, 1940

Latvia invaded by the Red army and government replaced. 35,000 Latvians were deported to Russia.

July, 1941

Russians attacked by German forces.

Oct. 1944

Latvia retaken by Russian army. 65,000 Latvians fled to Germany and Sweden. In subsequent years, 175,000 were deported to Russia.

July, 2003

The inaugural ROUND KURLAND RALLY took place.

 
 


Not many people know that...

Despite its long history of domination by foreign countries, Latvia - or more specifically, Kurland - can claim its own status of Former Colonial Power. If you're going to do it, then doing it Somewhere Warm seems to be a good idea: in this case Tobago - see below.
(Photos kindly supplied by Dave Pittuck)


 
Last Updated on Friday, 23 June 2017 10:35